sales1@returnairplenum.com
Roof Curb Equipment Mounting Rails for Pitched Metal Roof

How do I mount an air conditioning condensing unit to a pitched metal roof?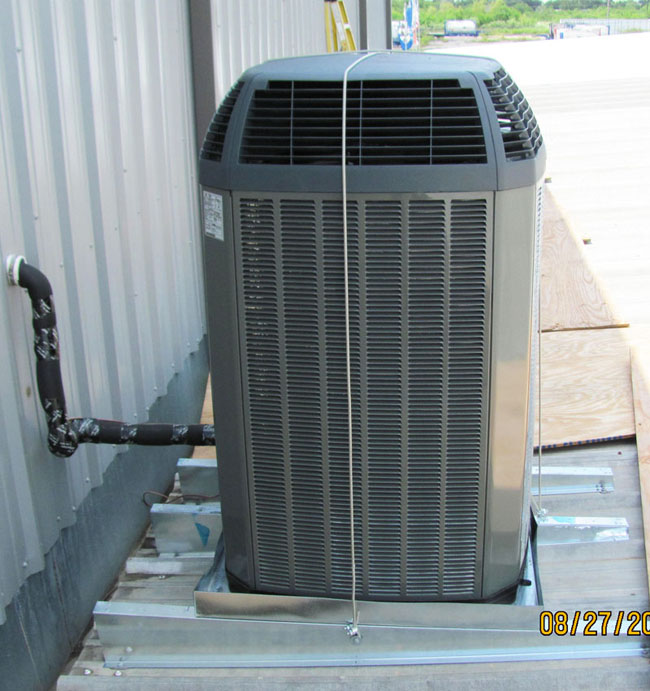 Roof Mounted Condensing Unit Equipment Deck
Mounting Platform for Pitched Metal Roof
With these roof curb equipment rails it is simple and quick to mount
and secure condensing units to the roof of a metal builiding.

For a Rooftop Installation


...the equipment deck / platform is simple to assemble.
Three pitched rails are fastened to the roof at the joists,
thus securing the rails to the structure of the building.

Add the 20 gauge positioning pan by screwing it to the rails.

The rails are added without removing any existing fasteners,
and the security cable is easily attached with the same type of screw.


The leverage of the cable gives it much stronger characteristics than wind clips.


A quick and easy leak free Rooftop Condenser Stand.

===================
By using this assembly, you help the building owner potentialize for traffic and security.


It is strong, esthetically correct and cost effective.


All things equal, it is an alternative to this:
And it can be made to fit most makes and models of condencing units...
Trane, Carrier, Goodman, Ducane, McQuay, Honeywell, Ruud, Bryant, American Standard, Lennox,
Amana, Rheem, G.E., York, Heil, Payne, Janitrol, Coleman, Whirlpool, Weather King, & Comfortmaker

This is how to mount a condenser to a pitched metal roof.

This system probably exceeds the standards for insurance,
...but no claim for that is being made.


Zurich Insurance: overview of wind damage issues

+++++++++++++++++++++

This is an industrial grade custom manufactured product.
It ships from Houston, Texas.


Also Available at The Best Supply Houses


Information needed to order:
1. pitch of roof
2. span between joists (probably 53 to 60 inches)
3. material; G90 galvanized steel or Stainless Steel


For price, availability and specific particulars:


sales1@returnairplenum.com


request submittals



===============
all images and text copyright